New faces, new names, new clients, new challenges. This all can only mean one thing: The 2023 edition of the COOPR Academy has begun and I am here to uncover what it entailed! Read more about our first session, the constellation of this year's team and our client!
Last Thursday, on the 16th of February, us students had the pleasure to venture onto Coopr's Headquarters for the first time and meet the internal team, each other but also this year's client! A hint of who they are and what our client does is in the title of this post 😊. But more about them later!
When entering the headquarters, we first had the chance to meet and greet everyone and get acquainted with our peers. From IBCoM, to Media & Creative Industries, to the Media & Business Master, our team is made up by enthusiastic Erasmus students from various disciplines, who are all here to learn more about PR.
We were soon joined by Shelly, who is a PR consultant at Coopr and trainer for this year's academy. She gave us a warm welcome and quickly unpacked what Coopr does, what they stand for and how entangled the definition of PR truly is. Shelly also explained what the next five weeks will look like: from thematic seminars led by Coopr's own employees, to brain storm sessions with our own team, to weekly dinners provided by the company: it seems like an exciting endeavor awaits!
While Shelly provided us with a great starting point for our time at Coopr, she soon gave us the floor to present ourselves and unpack who we are, what we think PR is and why we chose to further investigate its world. Once again, our team proved itself to be highly international, coming from multiple professional, but also academic paths and backgrounds, while we all share the same eagerness to learn and explore the world of PR. A sneak peek of some of our team members: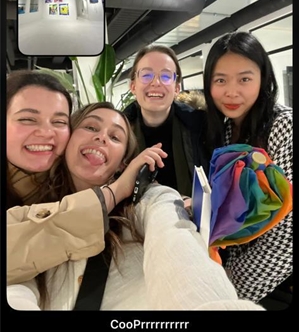 While we were all intrigued to learn more about one another, we grew increasingly curious, as we anticipated the official announcement of our client! As soon as everyone finished their presentations, the big reveal took place.
Drum rolls please…..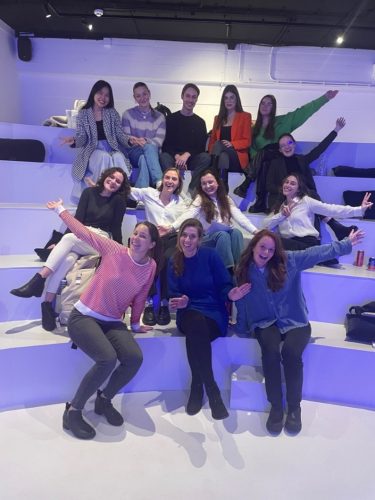 Our client will be: Fairphone!
As the name already foreshadows, Fairphone is all about technology, more specifically mobiles/phones, how to produce them in the most fair and sustainable manner, whilst uncovering the corruptive and unstainable ways in which the majority of our phones today are being manufactured. Their mission is to not only offer a revolutionary product, but spark a revolution through what they do, or as they say in their own words: be a positive industry disruptor. What a fantastic mission!
Their mission, alongside their most current technological developments (psst, stay tuned for more…we cannot disclose all at once 😊), their value statement and brand identity were all unpacked by the lovely Ioiana, who joined us as a representative of Fairphone.
We soon got to learn about this year's challenge and what Fairphone expects of us. Clearly, everyone got very excited to help amplify the message of a company that aims to be a game changer, a catalyst for good and a visionary when it comes to sustainability and technology: all in once!
The following weeks will be filled with growth, teamwork, creativity and research, as we courageously take on this year's challenge! Remember: the (sustainable) future is just one call away!