Did you know that some Instagram influencers can ask up to 14k for just one story-post on their page? I definitely did not! This was one of the many interesting facts that we learned today at Coopr.
The past week we have had time to let our assignment sink in. Everyone has done extensive research into Fairphone's Instagram page, Youtube channel, TikTok account etc., starting the path towards some creative ideas for this inspiring company. It was nice seeing everyone again and discussing our insights.
After the introductory session, today it is time to dive into some theory. The session begins with an introduction from one of the founders of Coopr, Jos. Jos gave us a very interesting presentation about strategies concerning PR and brand building, supported by countless cases and examples from all kinds of companies that we know. Jos' knowledge is very helpful in our own journey towards the creation of a PR strategy for Fairphone. What is the image of Fairphone? How do they want to be perceived by their customers? All kinds of questions that we are beginning to think about during this session. Questions that made our brains work hard and our stomachs rumbling.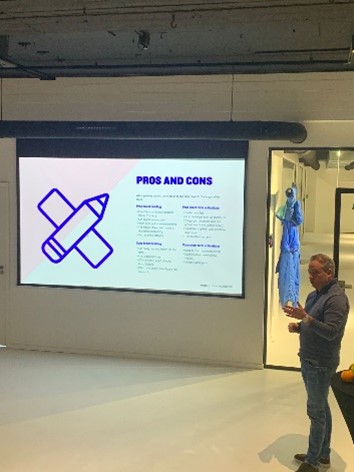 During Jos' interesting presentation
Luckily it was time for the break! We ate delicious pasta while having good conversations with our fellow teammates as well as with Jos and Dorieke. Jos spoke some more about the challenges and plans for Coopr in the future.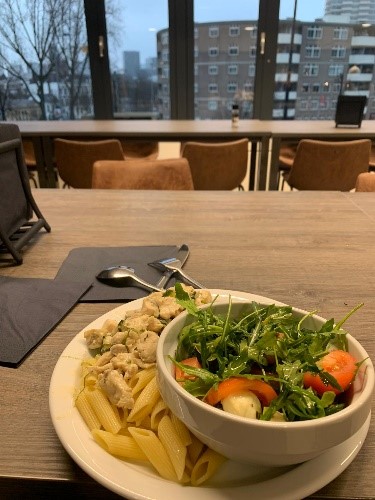 The pasta
In part two of this week's session, Dorieke, Coopr's senior communication advisor took the stage. Dorieke enlightened us with theory on Brand PR, publicity and influencers. I learned here that working with influencers is far more challenging than I expected. Yet again, Dorieke provides us with food for thought concerning Fairphone. She asks us to look into influencers that we think would be suitable for cooperating with Fairphone, which is interesting to think about.
After the presentations of Jos and Dorieke, our team is putting our heads together to discuss some first thoughts on everything and set up a meeting to make a start with our strategy. This second week's session definitely set a clear basis after which we can start building. Fairphone has an important message to send into the world and we want to help this company to the best of our ability.
Coopr, thank you for all the lessons this week, we are looking forward to what the coming weeks will bring us!
Continue reading