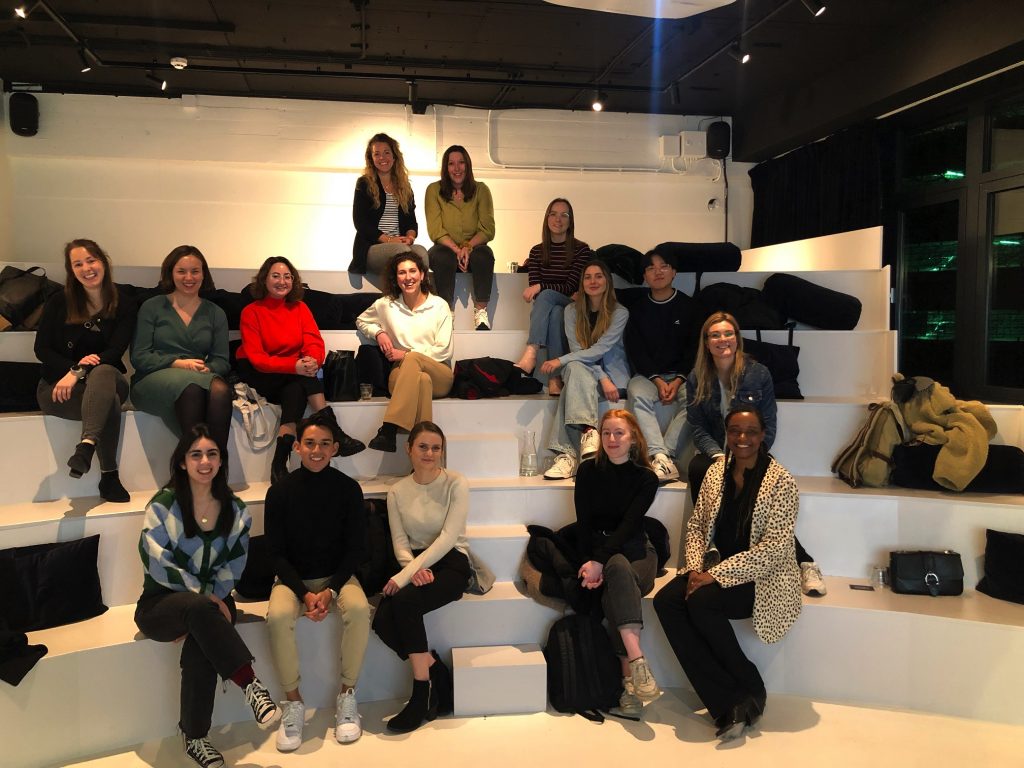 22 February 2022
Last week, on February 17th, ten students from Erasmus University Rotterdam kicked of their exciting adventure during the first session of the Coopr Academy.
Right before storm Eunice hit, the first session commenced, including fantastic company, a delightful meal, and the introduction of this year's interesting client. 
On a Thursday afternoon, everyone entered Coopr's soon to be new office at Candid as the weather and wind outside started to intensify. As we entered the modern, theater-like space, we were filled with curiosity and excitement for what this opportunity was going to bring. Especially because it is not common that students are able to work for an actual client, together with experts from an amazing pr agency. On top of that, the Academy would only continue if we could meet in person during the corona pandemic, so we were relieved and thankful that it could take place.
Throughout the five interactive sessions, as students from either 3rd year IBCOM or Master Media Studies, we will learn about the ins and outs of the PR field. In essence, we will be split into two teams and handed a public relations challenge from one of Coopr's clients. Students have worked on cases for MTV, Warsteiner, Lexa, Pathé and Chaudfontaine in prior years. During the weeks ahead, we will collaborate with a Coopr expert to develop the final product, a pitch and feasible solution presented to the client and jury. By gaining a hands-on experience, it will be the ideal addition to the education we received at Erasmus University to decrease the gap between theory and practice.
Our first session was kicked off with an introduction of us and of the Coopr staff. We were joined by co-founder Jody Koehler and consultants Lotte Monster and Anouk Schepers. Jody Koehler took the lead as one of the co-founders of Coopr and demonstrated his passion for PR as he explained why he founded the company. Having been invited to make mood boards about ourselves, both Lotte and Anouk introduced themselves via their own mood boards. They shared their impressive experience, passions, and enthusiasm for public relations.
After that, it was our chance to share our mood boards. One by one, everyone introduced themselves, explained what PR was to them, and why it piqued our attention. This was already a fantastic start to getting to know one another better. I couldn't help but notice how diverse the group was in terms of cultural background, as well as the remarkable academic and work experience that some of the students already had. At the same time, we shared mutual interests such as a passion for pr, a creative mindset, and a love of travel, fine food and drinks, and prevailing culture. We further discuss these, while enjoying delicious cuisine with each other in the canteen. I felt privileged to be served such a delicious meal and to be amongst an amazing group.
After getting to know each other, we spent time learning more about the organization. Some of Coopr's primary features were discussed, as well as its pr model and company culture. We discovered that when considering whether or not to cooperate with a company, Coopr looks at a number of factors. These include understanding the company, its products and services, agreeing with the work, and liking the people working at the company. Something that I found quite fascinating is the pleasant working environment that Coopr offers, also emphasizing employee relations and having fun on the job. Moreover, we got to see a slide depicting the various companies with whom Coopr has previously collaborated with. Coca-Cola, Netflix, Tiktok, Zalando were among the notable brands present. Hearing the visions regarding the field and how Coopr interacts with clients makes us even more enthusiastic about being able to do this ourselves during the program.
Finally, the moment we were waiting for had arrived. Namely, which case and brand we would be working on. A quick drumroll please…. Madurodam! Ludmilla Monila and Yvette Nieboer took the time to inform us about the company. Madurodam started out in 1950 as a miniature park and tourist attracting in the Hague. The origin of the park was an inspiring story to me. Bep Boon-van der Starp established the park to fund the aftercare of tuberculosis patients that were being treated in a nursing home. Nowadays, Madorudam is much more than a miniature park. It allows families to not only look at their miniatures, but also participate and experience attractions. In that sense, the best and most beautiful of the Netherlands can be explored. While Madurodam is well-known and customers enjoy visiting, the park's brand and image as a place where visitors are also able to experience attractions is not something that they are recognized for. For this reason, they reached out to Coopr.
On that account, it is now up to us to pitch a solution of how the company can translate the image of 'Moet je meemaken' ('You have to experience it') to the public. Everyone appears to be ecstatic about the client and the chance to take on such a challenge. We end by getting to know our group members and consultant better. It seemed obvious that everyone was looking forward to implementing the theory that we will absorb during the program to assist Madurodam in overcoming their challenge. The Coopr Academy is an incredible opportunity, and I for one cannot wait to be working on such an exciting case!