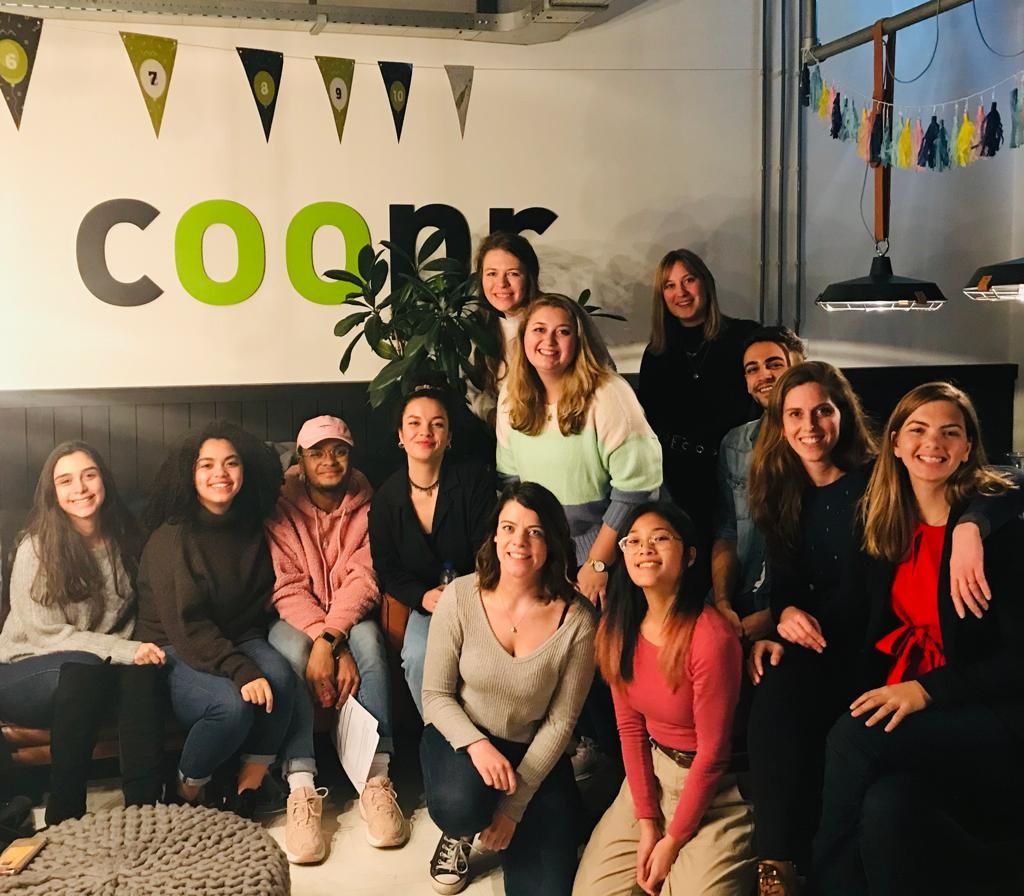 Last week, on February 11th, ten, either master or IBCoM Erasmus students, made their ways through Rotterdam for their first session at the 'Coopr Academy'. Once the storm Ciara blew us right into the office at Coolhaven, we enjoyed our first session which consisted of great company, delicious food and drinks and an exciting case to work on during this 5th anniversary of the Coopr Academy. 
Once everyone had arrived our first session could officially begin. Of course, this session was kicked off with an introduction of us and of the Coopr staff. Four members of the staff, with whom we will hopefully get to work more in the upcoming sessions, introduced themselves to us. Namely, Shelly Delwel, José van Genderen, Danny Maas and last but not least one of the co-founders of Coopr, Jody Koehler. All seemed very kind and excited about the 5th anniversary of the academy. This felt as quite an honour, since it's not seen every day that a company like Coopr takes the time, to share some of their (practical) knowledge with a bunch of students.
Then it was our turn! Our introduction was immediately linked to our first 'homework' task, since all students had to prepare a, so called, mood board. Each mood board had to answer three different questions 1) Who are you? 2) What do you think PR is? and lastly, 3) Why are you interested in PR? This was a perfect way to get to know each other better and it pleased me to see that we get to work in such a culturally diverse group of individuals. It was also interesting to see what each of us thought that the profession of PR in held and good to hear that we all understood the bigger picture of pr. Interests in the field derived in many different ways by the students, some learned about it via classes, other got inspired by real life PR stunts and personally my interest in the field arose during my internship.
Now that we all got to know each other a little bit, it was time to learn some more about the company itself. José therefore, presented a PowerPoint to us, discussing some main features of Coopr. Something that is quite fascinating is that Coopr created their own pr model they apply to the cases they work on. The model is created based on experiences employers at the company had working on PR cases in the past. Fun side note: one of the professors of the Erasmus university is actually going to use the model in one of his new college business books. So, it officially became an academically acknowledged model as well now. Moreover, we've learned that at Coopr they look at three different aspects when deciding if they are going to work with a company or not. Firstly, they ask themselves if they understand the product the company is offering. Secondly, they ask the question if they use the product or service themselves. The third question, was one that, I think of all us, did not expect at first, namely could we drink a beer with these clients? This is one that really portrays the pleasant working environment that Coopr entails, since it is most important to them that working on cases is above all fun. José also showed us a slide with companies Coopr already has worked with, which was quite impressive to say the least. Names such as Coca-Cola, Pathé, Adidas, Lexa, LinkedIn and so the list go.
After the PowerPoint, we arrived at the part of the session that we had all been waiting on. We finally found out on which case we are going to work the upcoming weeks and for which brand… Namely, Chaudfontaine! Chaudfontaine is a unique Belgian quality water brand, which water originates at the foot of the Ardennes. What is good to know is that Chaudfontaine is owned by one of the most well-known refreshment companies of the world, namely Coca-Cola. So, we are all super excited to be working on a case for such a big brand. Ineke Borsje, jr. brand manager at the Coca-Cola Company, took the pleasure of informing us about the (real life) case that we are going to work on in two different teams during this year's academy. I am sure that both teams are going to do their very bests to present her with some interesting ideas in the week of the final pitches!
One last important thing that should definitely also be mentioned, is that apart from all the information sharing, we also enjoyed ourselves with food and drinks. Half-way during this first session we all ate some delicious pizza together and after the first session was done, we all stayed for a nice glass of beer or wine to properly end this first 2020 session!